VBOC Success Stories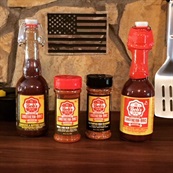 Bob's Smokin Southern BBQ is a wholesale/retail business specializing in BBQ sauces and seasonings based on recipes developed and tested over time by our founder. We provide the most unique and versatile sauces and seasonings suitable for all BBQ profiles and demographics.

The VBOC provided a strong base to structure a successful business and avoid the typical pitfalls which many small businesses encounter. In addition, real-life stories and experiences were shared by fellow students, instructors and guest speakers which proved to be very helpful during the development and execution phases of my business.

Starting a small business is very challenging and takes a lot of work. Being in the BBQ field in the heart of the BBQ belt is particularly challenging with 90% of those who enter this industry unable to sustain their business for more than a year. The challenge is what drives me to build and grow. I never view others in my field as competitors and stay focused on educating the consumer through tastings at shows, my client's venues and postings on social media. I never criticize someone else's products as it is better to show the consumer what you have to offer they will make their choice.

Consider the VBOC as an ongoing resource and take advantage of their vast knowledge and programs. Stay focused, positive and always move forward not worrying about what others are doing. The rewards far outweigh the risks if you're willing to work hard.

Website
Facebook
Bob Fletcher, Owner
Bob's Smokin Southern BBQ, LLC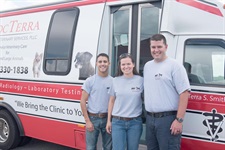 DocTerra Mobile Veterinary Services, PLLC is a 24-foot mobile veterinary clinic equipped to provide the same veterinary care as a brick and mortar clinic for all pets, large and small. Our home base is Vale, North Carolina, and we provide veterinary care within a 50-mile radius. The mission of our business is to provide quality, convenient, low-stress veterinary services and education to our patients, clients, and community through Christ-like compassion and care.

The VBOC gave me the resources and support to begin and complete my business plan as well as seek out the best option for my small business loan. If not for the VBOC I am confident I would not have gotten my business started as quickly or easily as I did. My advice for other veterans seeking to start a small business is to utilize the amazing resources and knowledge that VBOC has to offer. Starting a business can be scary, but VBOC can make it so much less stressful and more enjoyable. Take on the risks and hard work, because entrepreneurship is worth it!
Website
Facebook
Terra Smith, DVM, Owner
DocTerra Mobile Veterinary Services, PLLC
Bravery Kids Gym located at 886-A Elm St, Fayetteville NC is an inclusive indoor play facility that offers a fun, safe and stimulating learning environment to promote childhood development through play. They cater to children with special needs and typically developing children ages 0-10.

The Veterans Business Outreach Center (VBOC) assisted us with developing our business plan, understanding different types of funding programs, and ultimately putting us in contact with a funding source which approved us for an SBA loan. The VBOC continues to provide assistance and counseling in all areas of business and is always there to answer any questions we may have. They send us monthly information on funding opportunities, and free business courses relevant to growing our business.

I would advise other veterans transferring into entrepreneurship to have a group of business counselors to consult with and never be afraid to ask questions and seek out advice. Also, start your business with a strong foundation. Do the necessary work during the planning and development phase of your business to alleviate unexpected circumstances during operation.

Website
Facebook
Marcella Eubanks, Founder & Owner
BrAvery Kids Gym, LLC
Veteran Counseling and SBA Loan Help Retired Green Beret Start Drive-Through Coffee Shop


Before Erik Brinkman opened up The Morning Jump Coffee Company near Fort Bragg North Carolina, he served with the U.S. Army Special Operations Forces for 24 years. As a Green Beret, he was stationed in Afghanistan and Iraq, as well as American embassies in Indonesia, Rome, Cambodia, the Philippines and India. During his travels he developed an interest in specialty coffees from all over the world.

Erik ended up stateside at Fort Lewis near Tacoma, Washington. It was there he got a taste of the coffee scene of the Pacific Northwest. He noticed that other coffee shops in the area had two drive-through windows for commuters. After retiring to North Carolina, his wife and daughter urged him to follow his dream and create a coffee shop that focused on putting it out for the soldiers.

As he transitioned out of the military, Erik consulted with the SBA Veterans Business Outreach Center (VBOC) at Fayetteville State University. With their help, he crafted a business plan and took an accounting software course.

Twenty SBA VBOCs across the country help military veterans start and grow small businesses. They provide training, counseling, and technical assistance for Veterans, Service-Disabled Veterans, Reservists, National Guard Members, Active Duty business owners and start-ups.

Counselors at the VBOC referred Erik to the Carolina Small Business Development Fund (CSDF) to seek financing to start the venture. CSDF is a statewide non-profit and Community Development Financial Institution that provides small business loans, including SBA loans, to new and existing small businesses. In 2014, Morning Jump Coffee Company was approved for a $150,000 loan through SBA's Community Advantage Program.

SBA Community Advantage is a loan program designed to meet the credit, management, and technical assistance needs of small businesses in underserved markets. Community Advantage provides loans of up to $250,000 through designated lenders. There are four SBA Community Advantage lenders in North Carolina.

Like many entrepreneurs, Erik faced a few challenges, starting with a delayed opening. As the custom made coffee shop structure was installed, there were zoning issues that resulted in construction cost overruns.
Then, after a year in business, road construction created problems for local businesses, many of which closed. Morning Jump hung in there. They currently have six employees and are looking to add another shop in Fayetteville and also build a coffee roastery.

"Without the SBA and CSDF loan, we would not have been able to get the business off the ground," said Erik. "It's an amazing program to help veterans after they separate from the service."

Website
Facebook
Erik Brinkman, Owner
The Morning Jump LLC
The Folding Boat Company, LLC, located in Holly Springs, NC, is owned and operated by Navy veteran Pete Flood. The company designs, builds, and sells lightweight, quick to assemble, multi-purpose, folding boats. The folding boat provides hassle-free access to the water anywhere to do most anything.
"I started the Folding Boat Company because I wanted to create a better way to access those "hard-to-reach" gems off the beaten path. I pooled my nautical knowledge (Quartermaster, Navigator, and Helmsman in the US Navy), my engineering and construction expertise (from my years at SAS Institute), and my tenacious desire to craft a boat that is the essence of accessibility. The result is the K-PAK. She is a true folding boat and holds the promise of endless adventures."
The VBOC at Fayetteville State provided counseling and business advice including business plan reviews and help with obtaining an SBA loan.
I would advise any veteran that has a desire to become an entrepreneur to do their homework and work hard.
Website
Facebook
Pete Flood, Owner
The Folding Boat Company, LLC